時序回到2008年,第十屆的台北電影節正邁入第十年,主辦單位藉以重新設計台北電影節的獎座,象徵台灣電影史上別具意義的里程碑。由曾經榮獲金馬獎最佳美術設計獎的台灣重量級導演王童,也是台北電影節logo的原概念發想者,與連續兩年獲得金馬獎最佳紀錄片的蕭菊貞導演共同擔任獎座設計指導,邀請義大利米蘭DUMOS產品設計碩士黃維瀚總監設計並落實製作,打造代表台北電影節新形象的嶄新獎座,在台北電影節邁入第十個年頭的盛會期間發表,格外具有意義。
當時擔任2008年電影大使的張鈞甯,相信台灣的電影將再次的起飛,就像台北電影節的logo蝴蝶一樣,再次蛻變後將會更美麗動人。這一信念在2021年台北電影獎盛會中由王童導演再次開心指出,以台灣最美麗的蝴蝶象徵台灣電影作品最為貼切。毛毛蟲變蝴蝶的過程,在蛻變的時候好痛苦,猶如電影人從拍片到製作成影片的辛苦歷程。如今台灣的電影類型多元成績非然,都在歷年的台北電影節彷彿蝴蝶破繭而出,每年的驚艷換裝與展現,讓他深感欣慰。
Back to the year of 2008, the Taipei Film Festival was entering its tenth year, and the Festival organisation kicked off a trophy redesign process of the Taipei Film Festival to symbolize a significant milestone in the history of Taiwanese film. With Taiwan's heavyweight film director Wang Toon, who has won the Golden Horse Award for Best Art Design Award, is also the original concept creator of the Taipei Film Festival logo, and Documentary Director Hsiao Chu-chen, who has won the Golden Horse Award for best documentary for two consecutive years, serving together as the trophy design leaders, design director Silvio Huang of FONTANA, Master of Product Design at DUMOS in Milan, Italy, was invited to design the trophy and to implement the production in order to create a brand-new image of the Taipei Film Festival.
At that time, Janine Chang, who served as the film ambassador in 2008, believed that Taiwanese films will take off again, just like the logo butterfly of the Taipei Film Festival will become more beautiful and move towards transformations. This belief has been once again pointed out by the Director Wang Toon joyfully at the 2021 Taipei Film Awards, that the most beautiful butterfly from Taiwan is the most appropriate symbol for Taiwanese films. The metamorphosis process of a caterpillar turning into a butterfly is painful, just like the painstaking journey of filmmaking. Nowadays, Taiwan's film genres are so diverse that they have all appeared like butterflies at the Taipei Film Festival over the years. He is deeply gratified by the amazing transformations and displays every year.
金色獎座由五角形基底向上聳立、旋轉、蛻變成為閃亮的星,象徵電影產業的光彩。
佐以振翅飛舞的姿態將王童導演賦予台北電影節的蝴蝶意象,「夢想成真」。
當蝴蝶映在星光鏡面,真實與虛幻相互映射,捕捉電影虛實幻化交織的本質,瞬間即成永恆。
得獎時手握著獎座旋轉處,意涵著得到勇於把握蛻變的祝福。
The golden trophy rises from a pentagonal base, rotates, and transforms into a shining star, symbolizing the brilliance of the film industry.
With the gesture of flapping wings, this design follows Film Director Wang Toon's visionary butterfly image for the Taipei Film Festival and makes his dream come true.
When the butterfly is reflected on the starlight mirror, reality and illusion are mapped to each other, capturing the intertwined nature of illusion and reality of the film, and that moment becomes eternal in an instant. Holding the rotating part of the trophy when winning the prize means receiving the blessing of having the courage to grasp the transformation.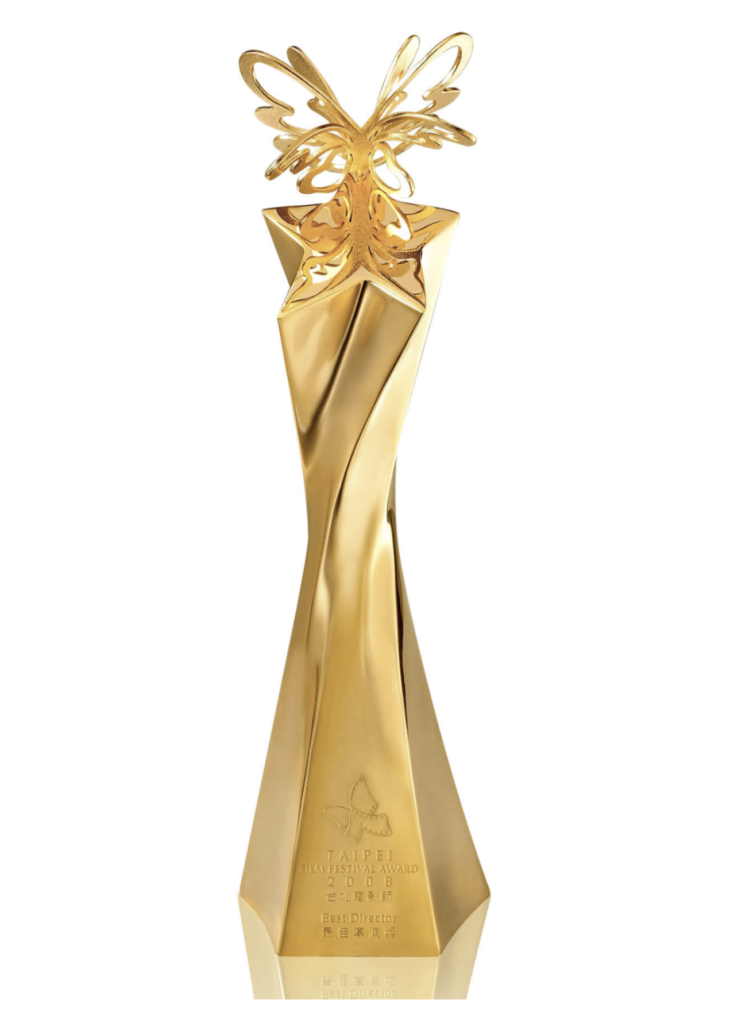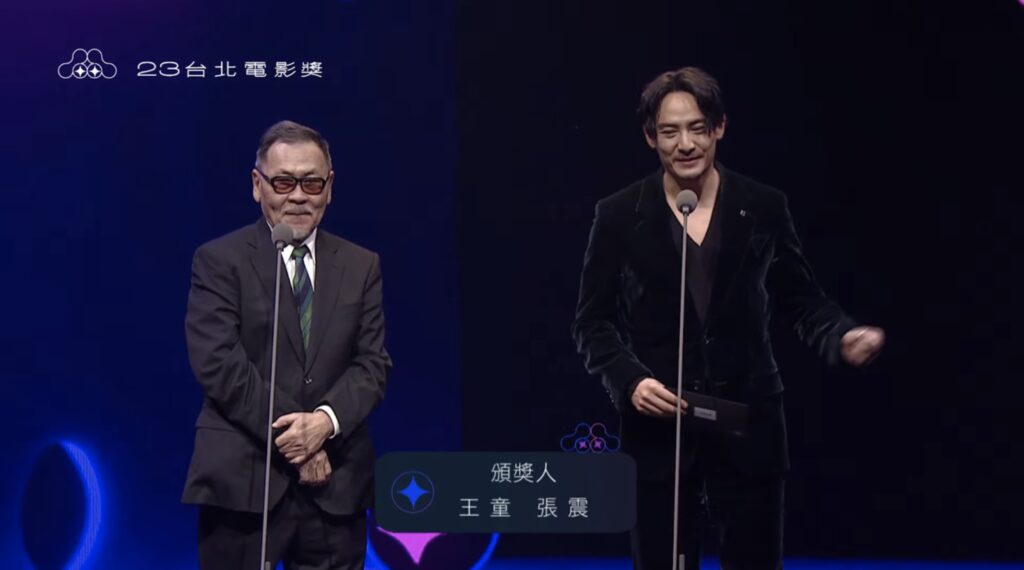 2021台北電影獎頒獎典禮,王童導演說明台北電影節「蝴蝶」意象的由來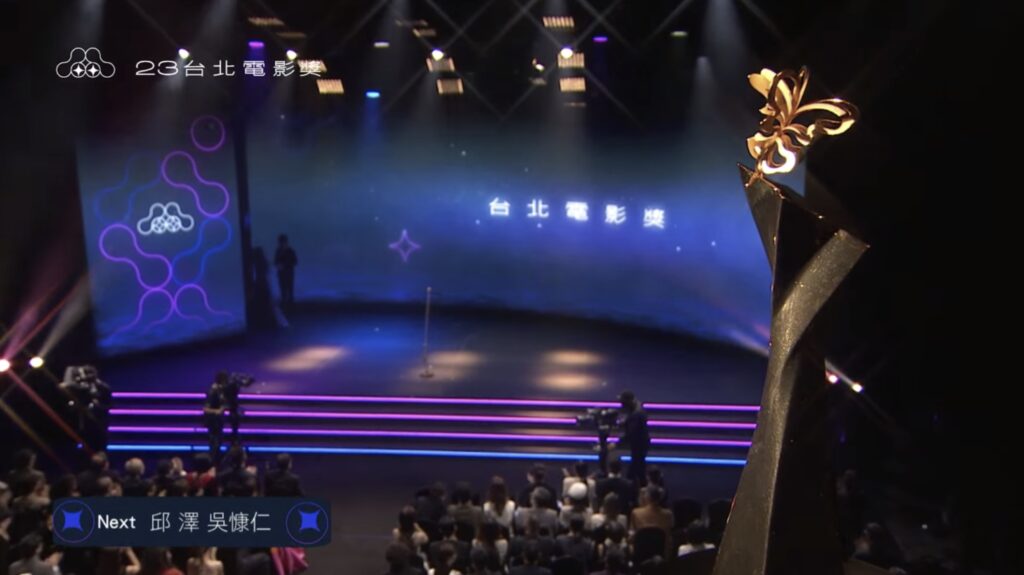 2021台北電影獎頒獎直播段落序列融合風泉於2008年所設計的蝴蝶獎座影像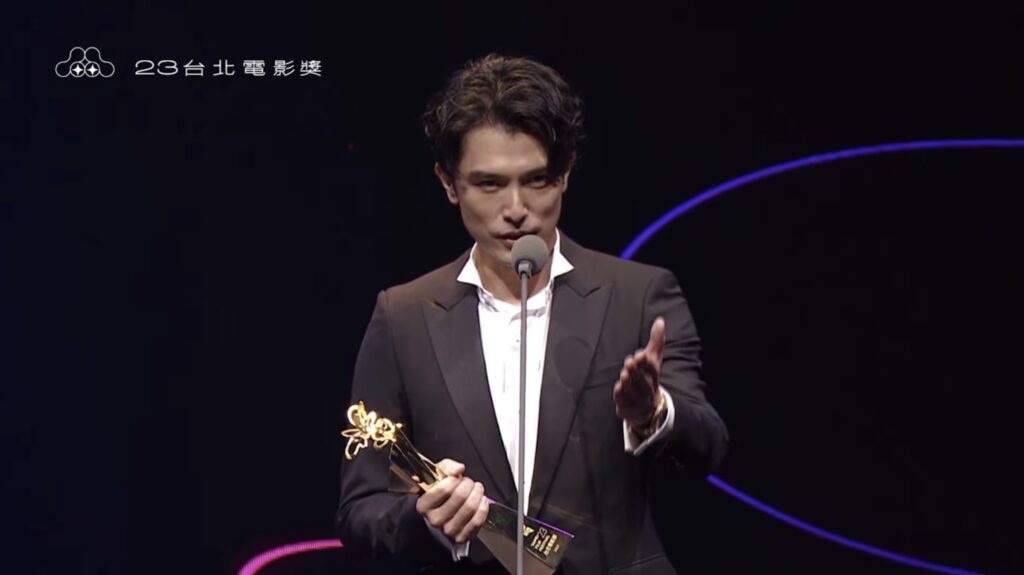 2021台北電影獎最佳男主角 邱澤 手握風泉於2008年所設計的獎座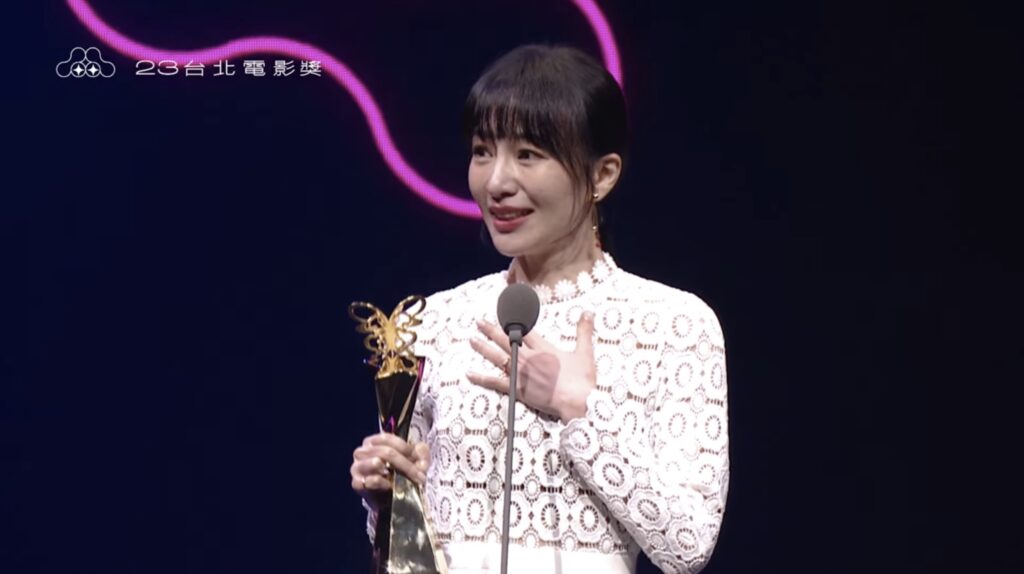 2021台北電影獎最佳女主角 陽靚 手握風泉於2008年所設計的獎座